Story bundles, by their nature, are intended to offer readers some excellent reading for a modest price. I think the Mythic Tales bundle achieved that goal with its 14 titles – a mix of novels, novellas, and short stories – for $6.50.
But now the bundle is on sale for only $4.99.
If you were thinking of picking up a copy, now is the moment to do it! 😀

Remember those epic legends of heroes and monsters? Stories of great adventure woven with magic and myth live once more in this collection; read of ancient lore, magic swords, wicked beasts, courageous souls, desperate champions, and unholy bargains. Fairy tales and bold ventures come together in this boxed set.
Beneath the Knowe by Anthea Sharp
Tales of Erana by A. L. Butcher
A Sword's Poem by Leah Cutter
On the Edge of Faerie by Stefon Mears
Sorcha's Heart by Debbie Mumford
Tales Fabulous and Fairy by Kim Antieau
Tempus by Janet Morris
Caught in Amber by J.M. Ney-Grimm
The Warden of Power by Karen L. Abrahamson
Beautiful by Barbara G. Tarn
Lost: Cinderella's Secret Witch Diaries by Ron Vitale
Tales of the Faie: The Beginning of Days by Diana L. Wicker
Raziel's Shadow by Joseph Robert Lewis
Magic for a Rainy Day by Alexandra Brandt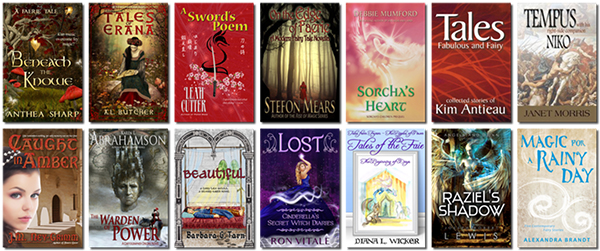 Mythic Tales is available at Amazon, Barnes & Noble, Kobo, iTunes, or direct from the BundleRabbit site.
Fourteen titles (8 novels, 1 novella, 4 short story collections, and 1 short story) for $4.99.
Note: The sale at the reduced $4.99 price is now over, but the bundle will continue to be available until February 1.

For more about the stories and novels in the Mythic Tales bundle, see:
Mythic Tales: Beneath the Knowe
Mythic Tales: Caught in Amber, Character Interview – Fae
Mythic Tales: A Sword's Poem
Mythic Tales: Tales of Erana
Mythic Tales: Tempus
Mythic Tales: Author Interview
Mythic Tales: Raziel's Shadow
Mythic Tales: Magic for a Rainy Day