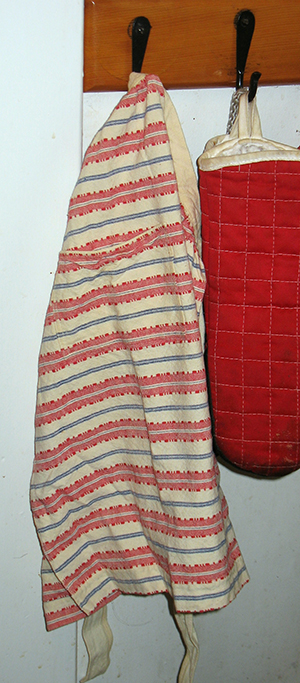 I've always loved quiche, but it's been decades since I've made any in my kitchen. I'm not sure why I dropped it from my repertoire. Honestly, I'm not sure it was ever in my repertoire. A shame.
But last week, my daughter who hates eggs announced that she'd been served quiche at a friend's house and really liked it. I leapt on my opportunity to get some luscious, farm-fresh eggs into my beloved child. 😉
Since it has been many months since I've posted a recipe, I'm leaping on the chance to do that as well.
It's been years since the food researchers conceded that they were wrong about the cholesterol in eggs. It's not harmful, never has been harmful, and you can eat as many eggs as you want. Actually, they conceded that the cholesterol in eggs is not harmful and has never been harmful, but they wussed out of reversing their recommendation to limit eggs. It just looks so bad. Heaven help their reputations!
So what's good about the nutrition in eggs?
Just about everything. They are rich in vitamins, especially the important fat-soluble A and D.
(Vitamin A is necessary for healthy skin, healthy mucous membranes, proper immune system function, healthy eyes, and good vision. Vitamin D is essential for healthy bones and teeth, the proper functioning of the immune system and the brain and nervous system, regulating insulin levels, support of the lungs and cardiovascular system, and preventing cancer.)
Eggs contain ample high-quality protein. They are an excellent source of EPA and DHA – long-chain fatty acids that are vital to the development of the nervous system in young children and to the preservation of mental acuity in adults. Eggs are truly a complete nutritional package, provided they come from chickens raised on pasture, where they scratch for bugs and worms.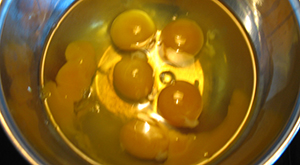 Chickens sitting in vast warehouses produce eggs that lack some of the superlative benefits of pasture-raised birds. Their omega-6 to omega-3 ratio is 20:1 instead of the optimum 1:1. And you can see from simply looking at the egg yolks – pale lemon yellow versus rich orange – that warehoused chickens produce eggs with less beta-carotene. They also have 28% less vitamin A.
But enough of weighing the pros and cons of eggs. What about my quiche?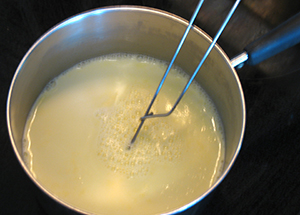 When I made it for my family, I made two, one crustless and one with a crust. That way I can eat low-carb, while my kids and husband get the kind of taste sensation they prefer. The recipe below is for one crustless quiche. You can double it, if you want to make a pair like I did. Or you can pour it into a crust, if you prefer your quiche with wheat. 😀
Ingredients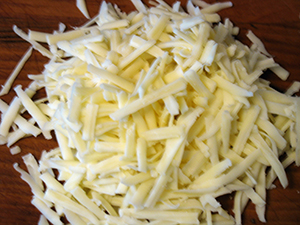 dab of butter
2 cups milk
1/2 cup grated cheddar cheese
4 slices of deli ham
3 eggs
1/2 teaspoon Celtic sea salt
dash of white pepper
dash of nutmeg
1 teaspoon minced fresh chives
Directions
1 • Make sure you have a rack in the middle of the oven, and either remove the second one or place it below the middle one. Pre-heat the oven to 375F.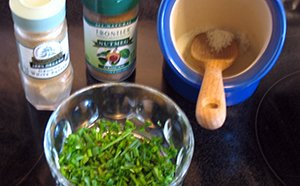 2 • Smear the butter all over the interior of a 9-inch glass pie dish.
3 • Heat the milk in a saucepan, stirring constantly, until a few tendrils of steam start to rise from its surface. Then set it aside, off the heat.
4 • Grate the cheddar cheese, if you have not already done so. (I do my grating after heating the milk, to give the milk a chance to cool a little.)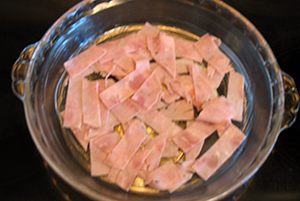 5 • Cut the deli ham in strips, roughly half an inch wide and 2 inches long.
6 • Crack the eggs into a bowl and whisk them thoroughly.
7 • Add the salt, white pepper, nutmeg, and chives to the eggs and mix well.
8 • Lay the ham strips all over the bottom of the pie dish.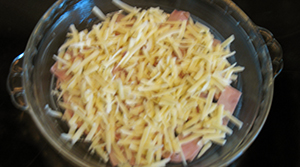 9 • Cover the ham with the grated cheese.
10 • Pour the egg mixture into the milk and mix thoroughly.
11 • Gently pour the egg-milk mixture over the cheese and ham.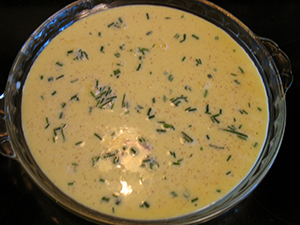 12 • Getting that full pie dish into the oven without spilling it is tricky! Take it slow and use pot lifters, so that all your attention can be on the liquid level and not on your vulnerable fingers.
13 • Let the quiche bake for 45 – 50 minutes.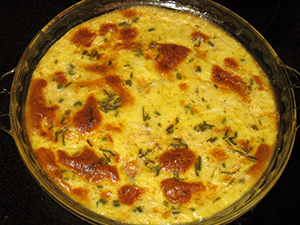 14 • Test for doneness by inserting a butter knife into the edge of the quiche custard. The rubric says that if it comes out clean, the quiche is done. I say: know your oven! The knife came out clean from last week's quiche at 40 minutes, but it could have used another 5 minutes. This week's quiche generated a knife that never came out clean. After 55 minutes, I took it out of the oven anyway. I should have taken it out 5 minutes earlier. Both week's quiches were good, but not at the ultimate sweet spot.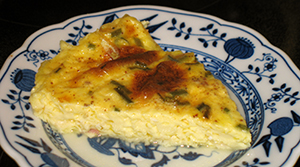 15 • Let the quiche cool to lukewarm – about 15 minutes – and serve. Cut the quiche to create 6 pieces.
More recipes:
Butternut Soup
Baked Apples
Coconut Chocolates