This Goodreads giveaway is over. Many thanks to all who entered and congrats to the ten lucky winners! I plan to run a giveaway for Livli's Gift, the sequel to Sarvet's Wanderyar, as soon as the proof copy of the print edition is error-free. Keep your eyes open!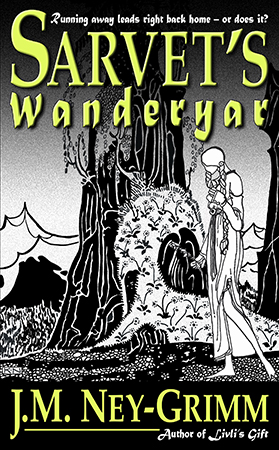 Goodreads is an online book club with 14 million members and over 20 million visits every month.
That's a little overwhelming! (To me, at least.) But the site is organized into thousands of smaller groups that focus on different kinds of reading experiences: cozy mysteries, steampunk fantasy, beach reads, and every other flavor you might imagine. That's much more approachable.
Why do I draw Goodreads to your attention? Two reasons.
One, I have an "author page" there. If you're already a Goodreads member, you might want to check it out here.
And two, during this month of September I'm running a giveaway (here) on Goodreads for paperback copies of Sarvet's Wanderyar. Now's your chance to win a free book! 😀
Running away leads right back home – or does it?
Sarvet walks with a grinding limp, and her mountain culture keeps girls close to home. Worse, her mother emphasizes all the things Sarvet can't do. No matter how gutsy her spirit or bold her defiance, staying put means growing weaker. Yet only boys get wanderyars. Lacking their supplies and training, how can Sarvet escape?
Can dreams – even big dreams – and inner certainty transform impossible barricades into a way out?
Sarvet's Wanderyar is available as an ebook and as a trade paperback.
The ebook: Amazon.com I Amazon UK I B&N I Diesel I iTunes I Kobo I Smashwords I Sony
The paperback: Amazon.com I Amazon UK I B&N I CreateSpace