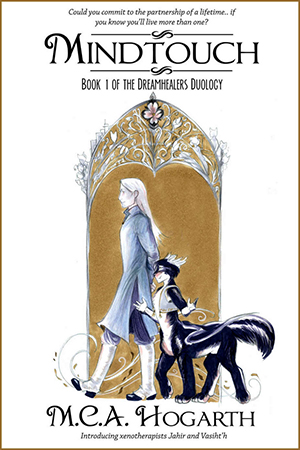 I'd never heard of the term "curtain fic" until this Monday, when I encountered it in a tweet from M.C.A. Hogarth.
She was giving her fans a head's up about the first book in her Dreamhealers series. Mindtouch was on sale for 99 cents for the rest of the week, and then it was going back up to its regular price.
In her tweet, she said: "People call it curtainfic with space elves and centaurs."
I was intrigued. What in heaven was "curtainfic"?
I googled, wondering if I would discover anything at all. Maybe it was so obscure that if you didn't already know, you wouldn't be able to find out.
But I was in luck. Google delivered many pages of results, and the first link on the list told me what I wanted to know. Fanlore.org defined the word as describing "fan fiction that focuses on ordinary domestic situations (such as the characters in a romantic pairing shopping for curtains)."
Since fan fiction involves fan writers playing in someone else's world, strict curtain fic would be something like the story of how Edmund Bertram and Fanny Price, of Jane Austen's Mansfield Park, made renovations and improvements to their first home at Thornton Lacey.
Or how Allan a Dale and his Fair Ellen – from The Merry Adventures of Robin Hood – visited the shops of Nottingham to procure the needle and thread that would allow Fair Ellen to keep her husband's minstrel's garb in good repair.
But clearly one need not borrow another writer's world and characters in order to "focus on ordinary domestic situations." In fact, the instant I read the definition of curtain fic, I realized that all my favorite authors include at least some elements of curtain fic in their stories.
When Bren Cameron settles in with Jago at his country estate of Najida (C.J. Cherryh's Foreigner series), we hear about the beautiful stained glass window that graces the new wing.
At the end of the fourth Sharing Knife book by Lois McMaster Bujold, we get an entire long epilogue in which a few loose ends are tied off and during which we come to understand the domestic arrangements of Fawn and Dag quite thoroughly. (I love this epilogue!)
In Dorothy Sayers' Busman's Honeymoon, we learn every last detail of the wedding preparations, as well as of the ceremony itself.
One of my favorite chapters in Bujold's The Curse of Chalion is the end-of-summer interlude in which Cazaril teaches Iselle and Betriz how to swim.
It's always a little startling when I discover something about myself – in this case, my reading tastes – that is fundamental and yet has gone unsuspected by me for years. But the illumination shed by learning the term curtain fic shone further than the books I read.
Because my first thought upon perusing the definition was: "Ah, ha! So this is a thing! People like stories with this quiet, mundane focus. Which means that my longing to write a story with a quiet, non-epic scale is not just a strange oddity possessed only by me. I could gratify my wish to write in this way. And there might even be a few people who would read it and enjoy it. Wow!"
Now, don't get me wrong. I like stories about life-and-death situations. I love stories in which everything of importance lies at risk of being lost, where all is on the line. Both as a reader and as a writer. But my tastes are quite broad. And I'd believed (falsely) that I was only allowed to write about big and sweeping events. Sometimes those momentous happenings are tightly focused on my protagonist. Sometimes they intertwine with the fate of a nation or a people. But the big-and-sweeping-and-momentous must be present.
No doubt I'll continue to write stories of that character. But I'm also going to allow myself to explore this concept of curtain fic.
Which is fortunate, since I'm realizing that my current work-in-progress has a decidedly domestic slant. Of course, for the protagonist, it's all pretty momentous. But it's an interesting mix of the quiet, the internal, and the domestic blended with a change that will turn my protagonist's life upside down.
In any case…thank you, M.C.A. Hogarth for opening my eyes to a whole new genre. My writing life just got more spacious, and I am grateful.
Speaking of Hogarth…what about her books?
I'd read her Spots the Space Marine and really loved it. Then I read her Blood Ladders trilogy, and enjoyed that as well. Although, the latter starts off with a group of college friends meeting in a coffee shop, and I realized as I read that I'd really wanted the story to be a college story – and it totally wasn't. It was good, just not what I was in the mood for at the time.
So, when I understood that Mindtouch was about grad students (alien grad students) in grad school, I was ready to click the buy button for that alone.
As it chances, I did click the buy button, and I've been happily reading Mindtouch for the last two evenings. It really is curtain fic. But I can also see the story building, slowly showing me exactly how these two unlikely friends came to be friends, and setting the foundation for how they came to accomplish something amazing within the healing disciplines of their civilization. (At least, I'm guessing that's where it's going.)
I'm not sure how much longer Mindtouch is on sale, but if you think you might like curtain fic, I urge you to pick up a copy and give it a try. 😀