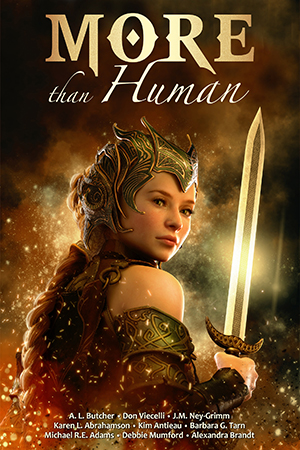 Book bundles are something new brought in by the advent of the ebook.
If you've not encountered them yet, here's the way they work. One author selects a bunch of stories (often novels or novellas, sometimes shorts) that share a common theme and bundles them together as one massive ebook, so that readers who enjoy that particular theme – dragons, ancient gods, fairy tales, etc. – can conveniently and inexpensively try the works of new-to-them writers.
For a long time, the only organized bundlers out there were the StoryBundle folks. Fine people, but they didn't release that many bundles and they approached only well-known names to curate those bundles. Which meant you had to know someone (and be lucky) to have one of your stories chosen.
Some writers organized on their own, but without the support of a platform like StoryBundle, the logistics were complex, involving an accountant and who knows what more besides.
This spring I learned of another option! BundleRabbit.
BundleRabbit functions more as an open bazaar, where any author can upload his or her work, and those who think they might excel at creating bundles sign up for a curator's account and then set to work finding good stories for their bundles.
I must admit that I wondered if the site might primarily serve as a home for a group of writer friends who set it up together to smooth out the logistics of making bundles for themselves. Perhaps, as an outsider, I and my stories wouldn't stand a chance.
Not expecting much, I decided to give it a try. And I was pleasantly surprised to receive an invitation only a month later from fellow fantasy writer A. L. Butcher for my short story Serpent's Foe.
So, wow! I'm in a bundle! I must admit it's been fun watching the bundle come together.
Just yesterday I read one of the other stories in the bundle and enjoyed it quite a bit. I'm going to be looking into more works by Alexandra Brandt. Which is exactly the way a bundle is supposed to function.
In the words of its author, let me tell you a little more about the story I read.
As a half-Wyndling, Sky Patel already balances with one foot in her beloved Edinburgh and one in the magical Wynd, a realm just on the other side of any Old Town alley (if you know how to get there).
Now on top of that, Sky must shoulder new responsibilities, protecting the doorways between those two worlds. But past mistakes come back to haunt her, and she begins to question the very man who gave her the role of Protector of Old Town. Can Ram be trusted after all?
Can she protect those most vulnerable to the twisted plots of the Wynd Lords? Can she even protect herself?
An urban fantasy short story.
I already have my eye on the next story I want try. It's about a dryad. 😀
But instead of going on about every story in the bundle, I'll share the description of the bundle as a whole.

To save. To guard. To heal.
Beloved people, precious things, and sacred spaces move our hearts and inspire us to defend them.
In these tales of redemption and rescue, more-than-human heroes stand forth as champions to protect all that is worthy of protection.
Walk with these elves, imps, wizards, dryads, gods, and guardians as they subdue demons, free the enslaved, preserve the world, comfort the exiled, and cross swords with the dark. Read and revel in their triumphs and tribulations.
The Shining Citadel – A. L. Butcher
Technological Angel – Barbara G. Tarn
Needle-Green – Debbie Mumford
The Cartographer's Daughter – Karen L. Abrahamson
Serpent's Foe – J.M. Ney-Grimm
The Crystal Courtesan – Karen L. Abrahamson
The First Book of Old Mermaids Tales – Kim Antieau
The Guardians – Book 1 – Don Viecelli
Love Apidae (A Recumon Story) – Michael R. E. Adams
The Flat Above the Wynd – Alexandra Brandt
The Kitchen Imps and Other Dark Tales – A. L. Butcher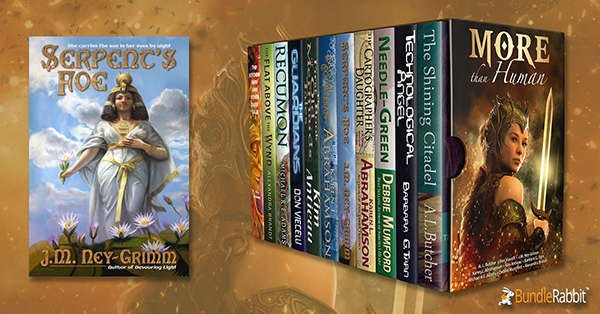 Bundles are nearly always time-limited offers. They remain available for purchase for 6 weeks, or perhaps 3 months, and then come off the digital store shelf. More than Human has finished its run, but you can purchase its eleven stories separately.
The list of titles above is a list of links to the stories on Amazon. The links below connect to The Flat Above the Wynd (which I highly recommend).
The Flat Above the Wynd is available at Amazon, Barnes & Noble, Kobo, and iTunes.
For more about other bundles, see:
Here Be Dragons
Spring Surprise
Immortals
Remembering Warriors
Winter Warmer
Mythic Tales