I seem to have fallen off my bundle reading and reviewing duties.
There's a good reason. I've reached the end sprint in the writing of my novella, tentatively titled His Poison Tear, and I can hardly bear to do anything but write! You may have noticed that blog posts were a touch scarce during the last week of February. That's why.
It's typical of my writing process. By the time I near the end of a story, I am so caught up in the characters—they seem real to me—and I'm so excited by the climactic events that are going down that blog posts just can't compete.
But I hope I can give a little more attention soon to bundles, because…
There's a new one out—Spring Surprise—and it has two of my stories in it! Perilous Chance and Sarvet's Wanderyar.

But it's not my own stories that have me so excited about this bundle. It's the stories by the other authors.
I did a bunch of checking the Look Insides on Amazon, and what I saw has me eager to read Easter at Glossner's by Robert Jeschonek, Eden's Eyes by Sean Costello, Temporal Dreams by Lesley L. Smith, and "The Brownies Holiday" by Rita Schulz. Those first pages hooked me!
I couldn't find Mother of the Waters on Amazon, but the tiny excerpt on the BundleRabbit site intrigued me, so I'm looking forward to it as well.
I've already read "The Queen of May" by Linda Jordan, so I know it's good! And I enjoyed The Tuxedoed Man by Marcelle Dubé so much (from the Winter Warmer bundle) that I'm eager to read her novel, The Forsaken Man, in the Spring Surprise.
I'd like to not only read all these titles, but also tell you about them via a series of mini reviews. We shall see!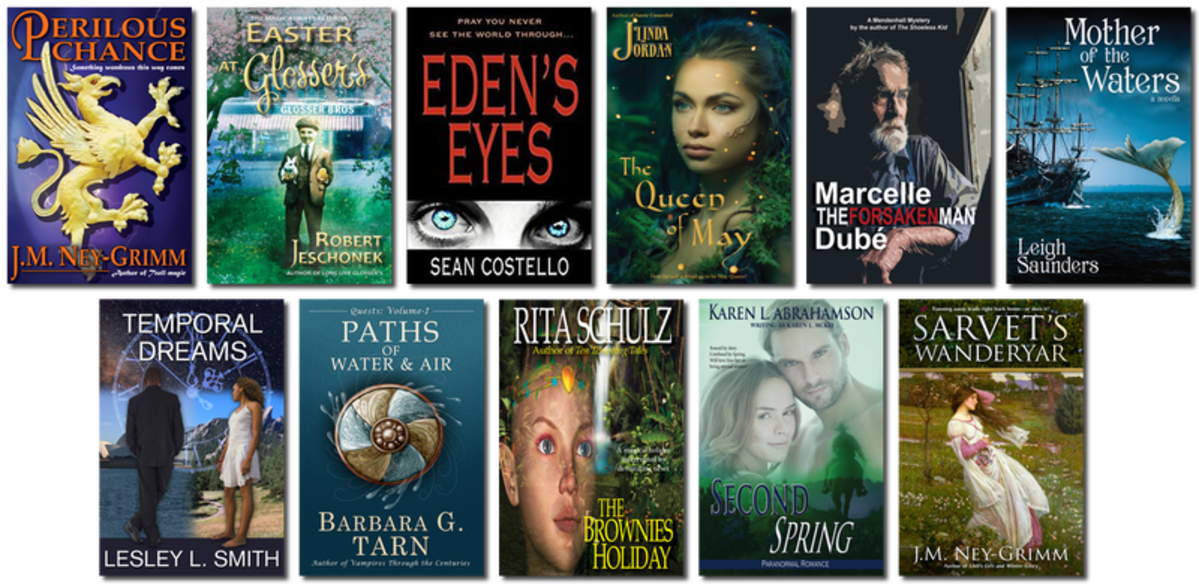 In the meantime, here's a little bit about the bundle.
The season of spring ushers in a time of rebirth; new life comes forth, trees emerge from their winter slumber and the cycle of nature begins again. Plans unfold, new adventures commence and the past is washed clean. At least . . . that's the theory.

In this mixed-genre bundle, tales of hope, fresh beginnings and emerging dreams, dangerous new lives and daring schemes awaken the springtime in us all.

Available for 3 months only — March, April, and May.

Perilous Chance by J.M. Ney-Grimm
Easter at Glosser's by Robert Jeschonek
Eden's Eyes by Sean Costello
The Queen of May by Linda Jordan
The Forsaken Man by Marcelle Dube
Mother of the Waters by Leigh Saunders
Temporal Dreams by Lesley L. Smith
The Paths of Water and Air by Barbara G.Tarn
The Brownies Holiday by Rita Schulz
Second Spring by Karen L. Abrahamson
Sarvet's Wanderyar by J.M. Ney-Grimm

The Spring Surprise bundle (with 11 titles) is available at Amazon, Barnes & Noble, Kobo, iTunes, or direct from the BundleRabbit site.
For more about other bundles, see:
Here Be Dragons
Immortals
Remembering Warriors
Winter Warmer bundle
Mythic Tales
More than Human